SHORT PROFILE
Name : Alberto BERGA
Birth year : 1978
Country : Spain
Studio : BergaGonzález
Position : Co-Founder
Website : www.bergagonzalez.com
---

[ Sélène Vilaseca ]
BergaGonzález is an Architectural Visualization studio founded 20 years ago, by 2 friends, the architects Alberto Berga and Javier González, based in Barcelona and Seville. They started as an architectural practice integrating visualization processes from the very beginning, making them precursors in the field. After the 2007 crisis in Spain, they decided to focus on the visualization side of the studio.
Let's meet Alberto!
Hi Alberto! Thanks for sharing with us your insight and experience of more than 20 years. Could you describe your academic background and share your experience with us? Specifically, when did you first discover your interest in becoming an architect? What sparked your passion for architecture?
Throughout my childhood and while I was at school, I was studying in the same room where my father worked. He was a professional draftsman and worked for architects. It was common to see architectural plans and architects every day. I saw how my father made a great effort to transition from hand drawing, which he excelled at but found challenging, to new methods. These were times when there was no internet, so learning was much more difficult.
I imagine that all those experiences are what sparked my interest in architecture. However, I must also acknowledge that the prestige of the profession and the promise of a comfortable financial situation played a role as well. When I finished high school, I enrolled in the Barcelona School of Architecture. I grew up in Mallorca, so the idea of traveling to another city and starting a life away from my family presented its own challenges. All of this was part of the learning process and helped me acquire other skills that are difficult to obtain in a familiar and protected environment.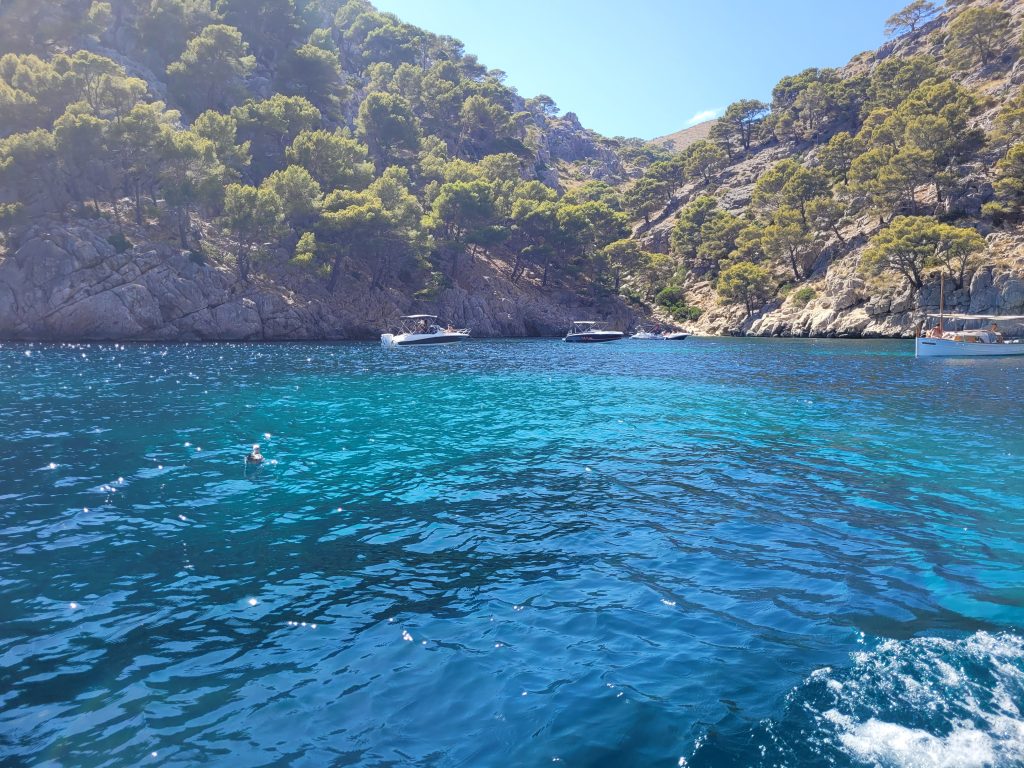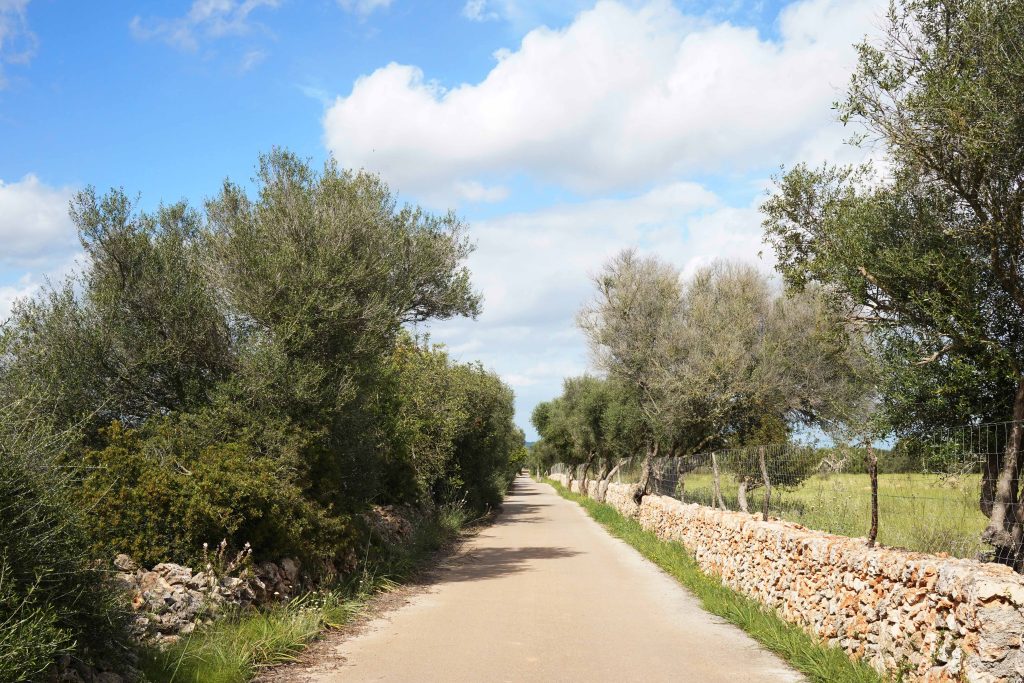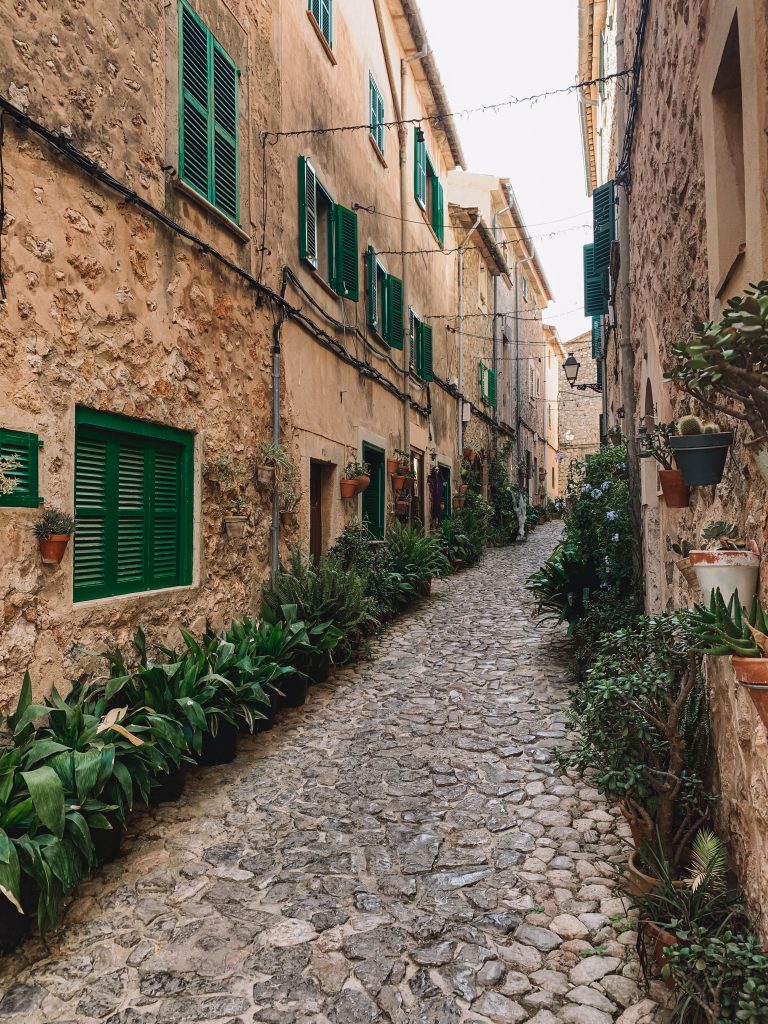 While studying, I always imagined that I would become a successful architect, with a reputable firm or even winning some important awards. I suppose we all had similar thoughts as students, although reality often turns out differently. By the time I finished my degree, we already had several architectural projects in progress. The creative processes were truly intense, and when something you had designed turned out well in construction, the satisfaction was immense. Likewise, the disappointments were significant when something that had required many hours of work ended up being altered by external factors.
Which building in the realm of built architecture inspires you, and why?
I have always liked Portuguese architecture, especially Siza, although I like Souto de Moura, Aires Mateus, and others as well. Siza's architecture, to me, is simple yet powerful. With few embellishments, it always manages to evoke emotions in me.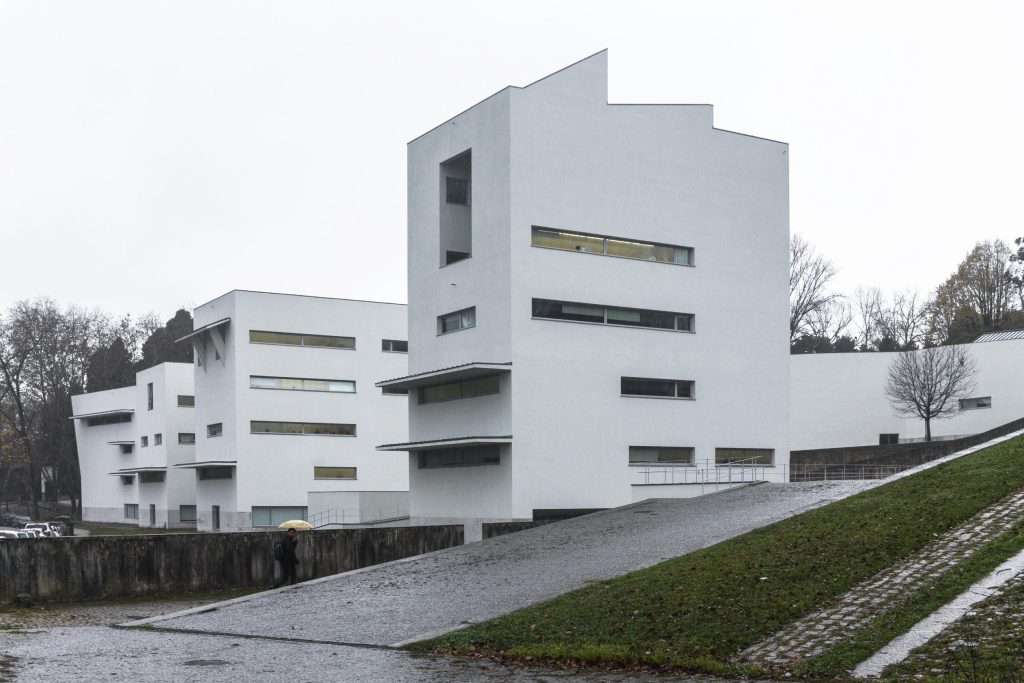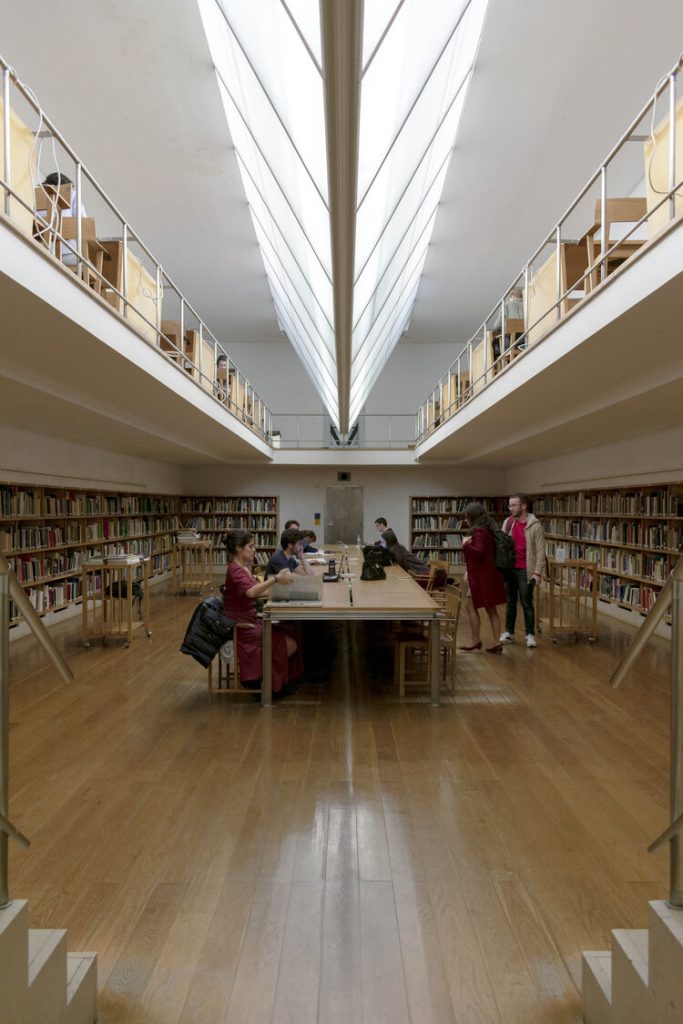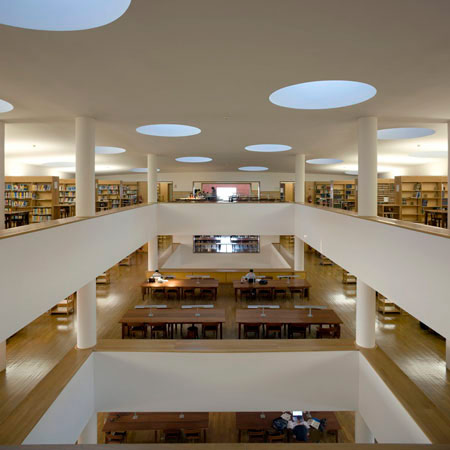 The architecture of RCR Arquitectes is always special. They excel in terms of formality and materiality. We have had the honor of working with them for over 6 or 7 years, and here I am sharing an example of the previous visualization work and the building as it stands now. It is a pleasure to witness how ideas evolve through the images we generate during the design process.
You first met Javier, your current business partner, while you were both in school. After becoming friends, the two of you decided to establish a practice together. Could you provide more details about the circumstances surrounding the foundation of your studio? How do you divide tasks and responsibilities between both of you? Additionally, how do you navigate working with a friend, and how are you able to maintain a successful professional and personal relationship?
It must have been during the summer of 2000 when I was working as an intern at an architectural firm, a client of my father's. At that time, the architect didn't have much work, so to keep me busy, he suggested that I participate in a competition for young architects. He mentioned that if I wanted to invite a colleague, I could do so, and I proposed it to Javier.
We were in a village in Mallorca, working on the competition. It involved a project for 16 affordable housing units in another town in Mallorca. I remember the architect giving us 30,000 pesetas (180 €) for competition expenses, and then he disappeared. We spent part of that on meals during endless hours of work, and when we finished, we treated ourselves to an expensive paella, using up all the money. The surprise came when we ended up winning the competition. We were fourth-year students at the time, so the architect's name was the one listed. Nevertheless, we were fortunate that the project got delayed, and as soon as we finished our degree, it became our first commission. We could say that this was the beginning of BergaGonzález, as an architectural studio.
In our day-to-day work, Javier and I have similar roles. Sometimes one of us takes care of certain tasks, and other times it's the other way around, although naturally, there are tasks that one of us handles more than the other. But we can interchange them. The truth is that working with a friend has many advantages. We have known each other for many years, and often we don't need to talk to understand what the other thinks, making day-to-day office work more manageable.
Like any pair of partners or friends, we have little disagreements, but we know that we are a good team and that we can count on each other in difficult moments, both personally and professionally. That is the most important thing.
You began incorporating visualization into your work early on, back when only a handful of studios were using renderings in their architecture projects. This proved to be a crucial asset for your business's growth, especially during the economic crisis in Spain. Despite still being involved in architecture projects, do you have any desire to return to a more traditional practice? Do you miss being involved in the design and construction aspects of projects?
That's right, during our practice as traditional architects, we used renders for design checks and client presentations. Now, part of our work is doing the same for other clients. The truth is, we still work on part of that creative process. Many of our clients rely on us to address design issues that haven't been tackled in the architectural project due to time constraints. Honestly, I don't feel the need to go back to traditional architectural practice, although I acknowledge that the design and construction aspects are fascinating.
Timing is very different between the architecture project and its visualization. How do you adapt to tight deadlines and a different way of working?
Due to the type of projects we handle in the office, deadlines are not as tight as they were a few years ago. Today, assignments tend to have a certain scale, and rarely do we find ourselves in situations where we have to deliver in 2 or 3 weeks, although it does happen occasionally. We always try to plan the project in a way that makes the client comfortable. Usually, we're also collaborating in some design phase, whether it's with our own proposals, partial contributions, or verifying the client's proposals, which often leads to longer-than-expected timelines. This also presents a challenge when it comes to planning projects to ensure that they overlap only when necessary.
Among all the images you have created, which one do you believe best represents the BergaGonzález style? Which project are you most proud of?
ONE LA MOLA
We have worked on a project where we have developed both images and videos, as well as the Brand Identity, Graphic Identity, website, and both digital and physical brochures.
For a few years now at BergaGonzález, although we don't advertise it as we should, we offer all these services for real estate projects, mainly in the luxury sector. We firmly believe that by providing a comprehensive solution to our clients, which encompasses all the marketing tools for their projects in one place, we position ourselves in a privileged position.
VILLA PATRICIA
Another one would be the project of a villa in Formentera. We love working with the Mediterranean backdrop. On this occasion, we have based the identity on something truly authentic, a fig tree and a sheep endemic to its shade. We wanted to convey the idea of the authentic Formentera and how you can end up becoming an islander.
CASA BERNATS
We developed this project with our friends from Berrow. It was a house that had been on the market for 2 years. We created the renovation project, renderings, and visual identity, along with a brochure, and it sold for around 10 million euros in less than two months.
How many employees were on your team at the beginning of your business and what is your current headcount? How has your company's organization and staff evolved over the past two decades?
Could you outline your strategy for developing B&G? How do you envision the company evolving over the next decade?
Initially, the studio started with just Javier and me, and shortly after, we began incorporating people in the team. By the time the 2007 crisis hit, we were a team of 7 people. However, due to the crisis, Javier and I were once again the only ones left, until we embarked on the archviz path in 2012.
Currently, we are a company with headquarters in Barcelona, where we have 17 team members. Recently, we have also opened an office in Seville, with just 2 people, but we aim to grow that team further in the near future.
Regarding organization, initially, we had a romantic idea of a flat hierarchy within the team. Javier and I were responsible for organization and art direction, and we assumed everyone had equal status. In fact, we prioritized hiring only seniors. Over time, as we grew, we realized that this approach didn't work perfectly. Naturally, the company has established hierarchies. There are team members with extensive experience and expertise who assist us in organization, project management, and art direction. Others focus on integrating new team members to ensure smooth onboarding, and so on. As we gain experience, we see that it's impossible to handle everything on our own, and many people in the team can take on more responsibility, while others are preparing for it.
In terms of the company's evolution, our goal is to establish a strong team with clear responsibilities that will help us grow. We aspire to be a prominent player in the field of Property Marketing, and for our company to be recognized as a consultancy that excels in designing and marketing projects, as well as establishing effective marketing strategies.
In recent years, we have made significant efforts to provide branding services for architecture projects. Although this may not be visible on our outdated website, in the future, we will showcase numerous examples of the services we offer in this area.
Could you discuss how you cultivate a healthy work environment for your team? What steps have you taken to create a non-toxic workplace, and what do you consider to be the most important factor in promoting employee well-being? Despite the pressures of tight deadlines and demanding clients, how do you maintain a positive work environment?
To create the best possible work environment, the first and foremost requirement is that the individuals joining the team are honest, flexible, and respectful. That is the attitude that we must also show the team. The team is the most important aspect, even more so than the clients. It is our responsibility to ensure that the team feels valued, well-regarded, and that their opinions, concerns, and contributions are listened to.
In the studio, we establish a working process where individuals feel accountable for their tasks. We never ask for overtime since we plan our workload to avoid such situations. If someone tends to work longer hours, we insist that they leave when it's time to go home. We do not work on weekends or nights. It's important to have time for work and time for living. Work hours are flexible, with the emphasis on spending as much time together as possible. However, the specific arrival and departure times tend to vary based on individual needs. The same goes for vacations, leaves, and so on. These matters are usually discussed in advance to accommodate the workflow, allowing for a good deal of ffreedom in planning personal life. We also organize activities outside the office, such as having meals together, visiting cultural sites, and last year, for the first time, we arranged a group trip to Mallorca, where we could visit some of the luxury projects we had participated in. It was truly exciting to see the team enjoy all of that, and we will definitely repeat such experiences. During lunchtime, it's a pleasure to see team members forming friendships and how many of them also gather outside of work hours.
---
"To create the best possible work environment, the first and foremost requirement is that the individuals joining the team are honest, flexible, and respectful. 
That is the attitude that we must also show the team."
---
Alberto
In a previous interview, your business partner, Javier, mentioned that he sees himself as an architect who approaches their work in an unconventional way, rather than as an artist. What are your thoughts on this perspective? 
On the other hand, many firms use non-commissioned projects to showcase their artistic approach to clients. What is your opinion on this strategy, and does your studio employ a similar approach?
Here, honestly, my opinion is somewhat unpopular in the industry. Undoubtedly, the profession has an artistic aspect since it is based on architecture, which is an art, as well as illustration, painting, and cinema, which are also art forms. However, there is a long way to go from there to saying that we are all artists. I believe that there are certainly very talented artists in this industry, true artists, but I dislike generalizing. In my opinion, Archviz is a discipline that combines technical and artistic aspects, aiming to solve a problem: the inability of many people to imagine an architectural project through traditional representation methods. This is where Archviz comes into play, presenting the project in an appealing way to achieve the objective, which is often the sale of a product or an idea. There is clearly an artistic impulse in the entire process. It may be more intense in some individuals than in others, which is why it's important to give the team some freedom to explore creative processes. We have also worked on non commissioned projects, without a client, to showcase the things we would like to do. However, the day-to-day tasks usually leave little space for that. Something we are now regularly doing is including a series of images in the sets that are solely based on our own criteria, without any interference from the client. This allows us to explore other options with greater freedom.
In 2016, you founded AVA, a non-profit organization aimed at organizing and recognizing the work of architectural visualization professionals. How did you come up with the idea, and what impact has AVA had on the ArchViz community?
AVA emerged from multiple meetings of different studios in Barcelona. Initially, Victor Enrich gathered us all in one place to talk about an artistic project in which he wanted us to participate. Gradually, as we got to know each other and started discussing among the different companies, we realized that we had many things in common and that our problems, doubts, and concerns were shared. All those companies and individuals decided to found AVA together, and it was, without a doubt, a milestone. In 2017, taking advantage of the architecture congress held in Barcelona, we were able to organize an event in record time, which was attended by about 200 people. The congress lasted one day and featured roundtable discussions, debates, and talks. It was the only Archviz event where not a single render was shown.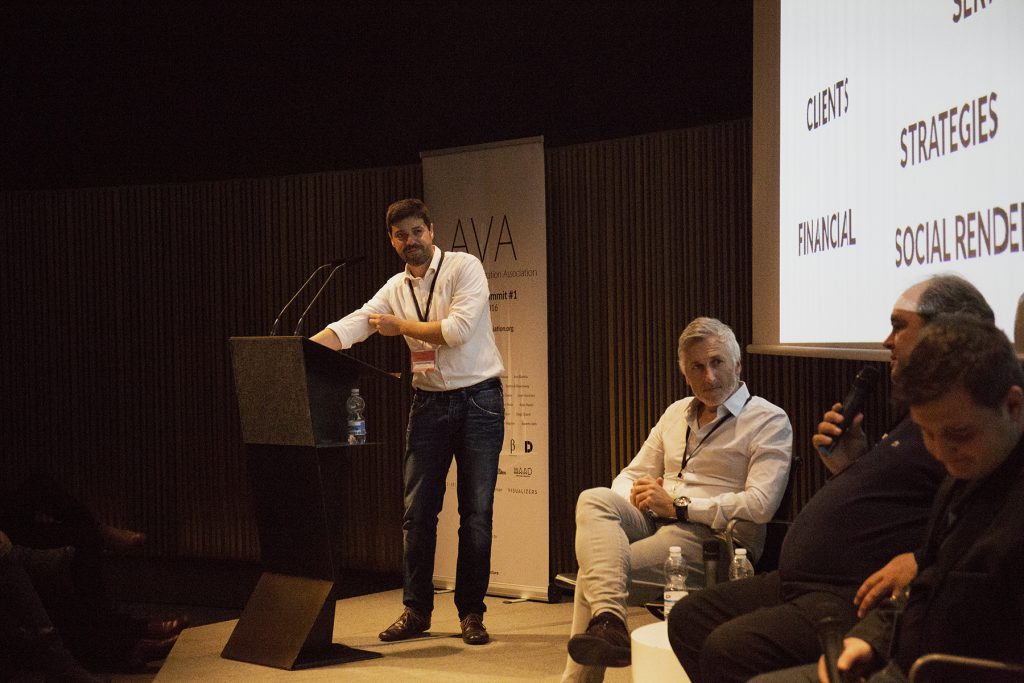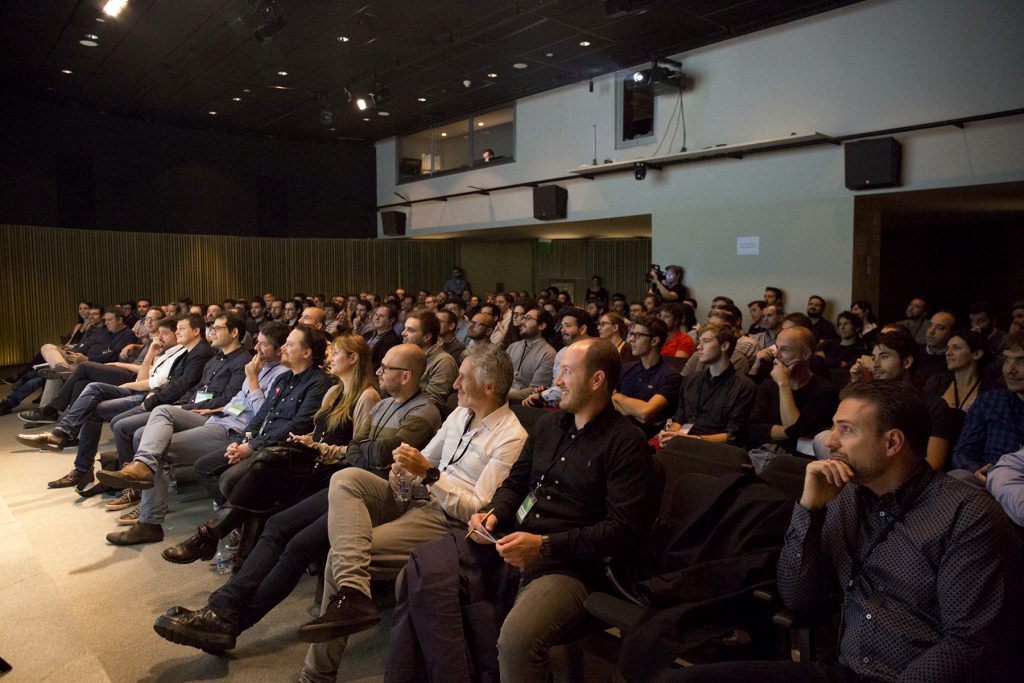 Nonetheless, people were delighted because the discussions revolved around the industry itself, its processes, and its challenges. Prominent figures in the Archviz world participated in the congress, and it truly was a beautiful moment. I don't think anyone expected such an event. It demonstrated that there is indeed a community and an Archviz industry, and by coming together, we can help each other and make the industry stronger.
---
"AVA demonstrated that there is indeed a community and an Archviz industry, and by coming together, we can help each other and make the industry stronger."
---
Alberto
What is your opinion on artificial intelligence, particularly whether you believe AI software such as Midjourney could pose a threat to our profession, or if you see it as an advantage? Does your agency use this type of software?

A few months ago, we panicked when we discovered ChatGPT, but now we actually incorporate it into part of the creative process in our marketing campaigns. The same thing happened with Midjourney, so we decided to start testing it. After several experiments, we realized that it can be useful in some parts of the process, but it's still not easy to control the outcome, especially if precision is required.
Clearly, AI is going to reduce the workload, but it's impossible for me to make a prediction because what was valid four months ago is no longer relevant. I don't dare to make any comments because I know I'll soon be proven wrong. I believe we simply need to stay attentive without going crazy. In addition, I have to admit that these tools are incredibly addictive. Before you know it, hours have passed while trying to create a specific image.
In conclusion, what has been the most significant moment of your career thus far? Additionally, if you could go back in time, what advice would you give to your younger self?
I believe that in the field of Archviz, one of the best moments was the organization of the AVA event, due to the synergies that took place and its global impact. It helped raise visibility for the Archviz industry and the companies involved in organizing it. Another significant moment was when we decided to start attending events, stepping out of our comfort zone and connecting with more people. It was exciting to see people recognize our work and develop an interest in what we had to share. Participating as speakers in various events has been one of the most challenging and thrilling experiences in recent years.
In terms of projects, every crisis has helped us seek new objectives. About 7 or 8 years ago, we invested time in creating high-quality videos, which has led us to consistently have 3 to 4 videos in progress at the same time. During the COVID crisis, we gave a definitive boost to the property marketing aspect and started working seriously on branding projects, offering a comprehensive solution to our clients. Currently, this has led us to larger and more complex projects, indicating that we are on the right path.
If I had to give advice to my past self, I would have two things to say:
1. There are very few things that are as important as they seem.
2. Don't overthink things. Stop overthinking.
---
"If I had to give advice to my past self, I would have two things to say:
1. There are very few things that are as important as they seem.
2. Don't overthink things. Stop overthinking."
---
Alberto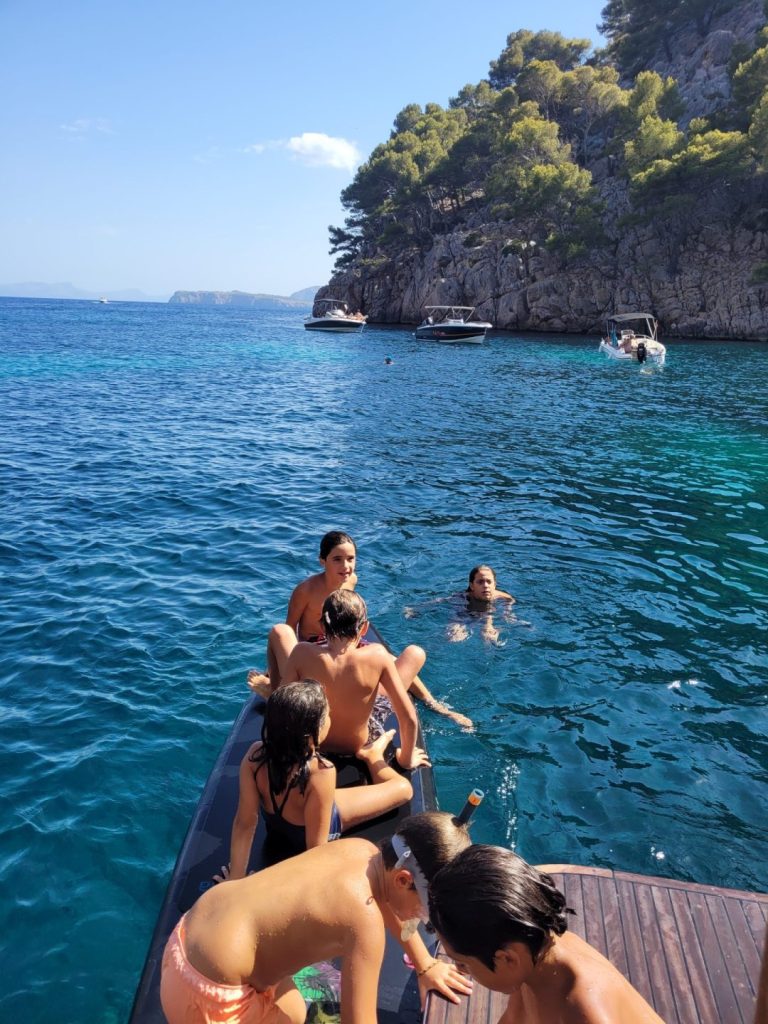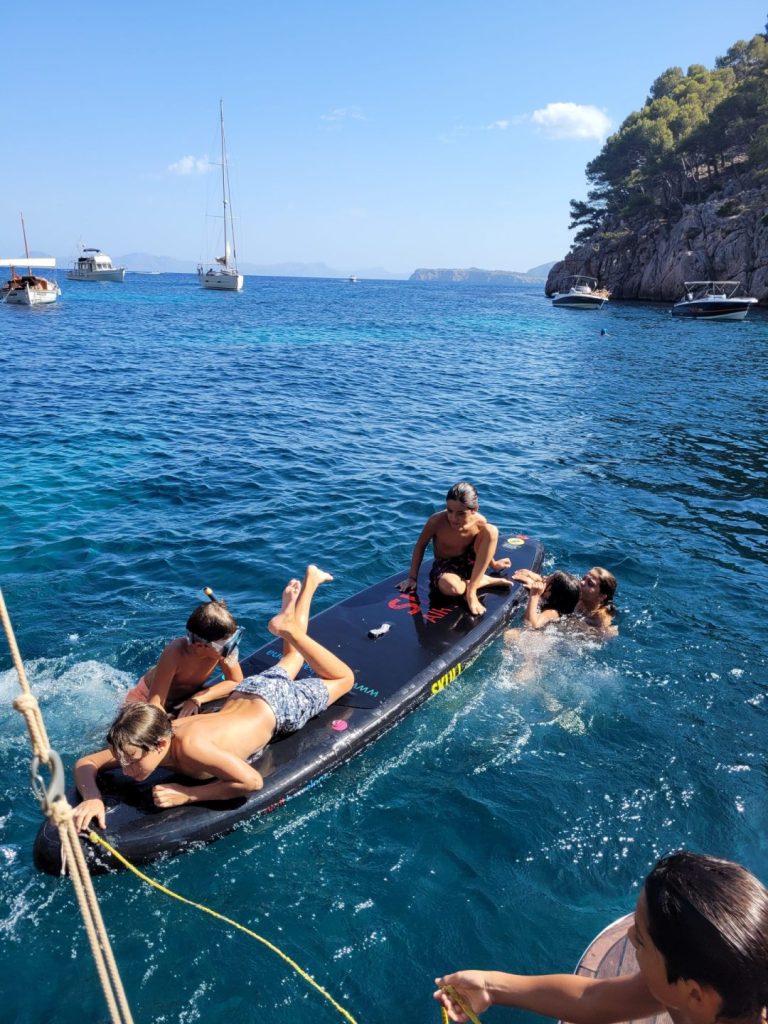 As a final note, could you share a photo that inspires hope for the future and providing a brief explanation of why it holds such significance to you?
This is what gives me the strength and hope to keep going. 
It's a photo of my children (Pau and Julia) with friends in Mallorca. Enjoying the sea, just concentrating on the game, in the open air and with no other worries that getting in and out of the water. 
As long as these kinds of games and situations repeat and I can see, together with my wife, how they grow up happily, then everything is fine 😉
Thanks Alberto for sharing your insights and giving us a glimpse into Bergagonzález's world. Your connection with the beautiful island of Majorca shines through in your work, and I invite our readers to visit your website and discover more of your captiving imagery!
---
Interviz #7 – 17.07.2023 by Sélène Vilaseca
---